CITC Accredited Work Placement Company, first MBO trainees started
March 11 2021 – CITC received its qualification as an Accredited Work Placement Company and now also trains MBO professionals. Two trainees have started.
  Read this article in Dutch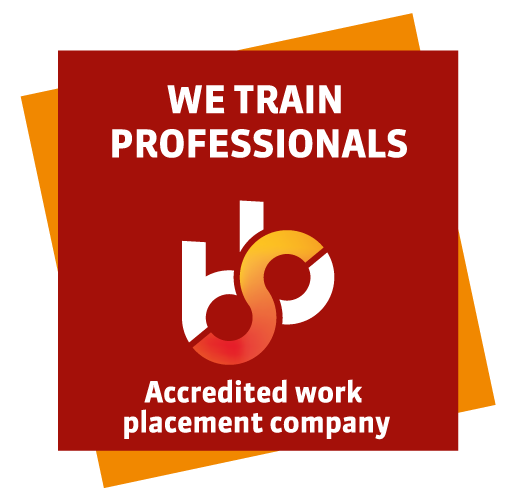 Now that CITC holds the Accredited Work Placement Company qualification, much more MBO students will be trained and the semiconductor companies in the region will benefit from well-trained professionals!
 Artikel in het Nederlands
11 maart 2021 – CITC Erkend Leerbedrijf, eerste MBO stagiairs gestart
CITC ontving begin dit jaar haar kwalificatie als Erkend Leerbedrijf en leidt nu ook vakmensen op. Er zijn inmiddels twee stagiairs gestart.
Naast Provincie Gelderland heeft Gemeente Nijmegen subsidie verstrekt voor de totstandkoming van CITC. Een van de kerntaken van CITC is het ontwikkelen van human talent op alle niveaus: WO, HBO en MBO, zodat er een betere aansluiting zal zijn tussen onderwijs en arbeidsmarkt. Dit levert een belangrijke bijdrage aan de economische veerkracht van stad en regio. Het zorgt voor de groei van het aantal bedrijven en banen en versterkt de concurrentiekracht. Monique Esselbrugge, Wethouder Economie Gemeente Nijmegen, is enthousiast over de onlangs door CITC verkregen titel als Erkend Leerbedrijf: "Het vermogen om mee te bewegen met trends en ontwikkelingen vormt de basis voor economische groei en welvaart. Een belangrijke voorwaarde om dat goed te kunnen doen in een snel veranderende wereld zijn werknemers, studenten en leerlingen die hun kennis permanent kunnen ontwikkelen. Onderwijs- en kennisinstellingen, bedrijven en overheden moeten daarom hun krachten bundelen om een lerende economie te creëren waarin talenten en vaardigheden steeds zo optimaal mogelijk worden benut. Het CITC draagt daar vanaf nu als Erkend Leerbedrijf echt aan bij. Daarom ondersteunt de gemeente dit initiatief graag."
Onderwijsinstellingen als de Radboud Universiteit, TU Delft, Universiteit Twente en de Hogeschool Arnhem en Nijmegen (HAN) zijn nauw betrokken bij CITC. Dat geldt ook voor het middelbaar beroepsonderwijs, zoals het ROC Nijmegen. Folkert Potze, Directeur Techniek en Technologie, ROC Nijmegen onderstreept dit: "Ik ben er trots op dat de eerste twee MBO studenten concreet als stagiair bij CITC begonnen zijn. Fijn ook dat CITC inmiddels erkend is als officieel leerbedrijf. Op weg naar een duurzame samenwerking in het belang van de regio!"
In februari zijn Robbert Ottenbros van de Mechatronica opleiding van Koning Willem I College 's-Hertogenbosch en Dilano Timmer van de opleiding Creatieve Technologie van ROC Nijmegen als stagiair bij CITC gestart. Dilano heeft de opdracht gekregen om een interactief model (mock-up) van een chip verpakking te maken. Dilano vertelt: "Studenten leren veel in de praktijk. In mijn opleiding werk je daarom al veel in opdracht van of samen met een bedrijf. In de stage bij CITC zal ik nog veel meer leren en ervaring opdoen. Ik kom bijvoorbeeld van alles te weten over chip technologie en ik ervaar hoe het is om bij een innovatiecentrum te werken."
Nu CITC de kwalificatie Erkend Leerbedrijf op zak heeft, zullen er nog veel MBO studenten volgen en gaan de halfgeleider bedrijven in de regio profiteren van goed opgeleide vakmensen!