CITC and MSC Software support the next generation of chip integration… and its creators
October 11, 2021 – As an open innovation center, CITC collaborates with many organizations. The latest addition to the list of partners is MSC Software, a developer of simulation software technology. This enables engineers to validate and optimize their design using virtual prototypes. CITC not only uses the software in its research work but has also included it in the Semiconductor Packaging University Program.
Solving societal challenges
Within the world of semiconductors and photonics, integration and packaging technology is growing in importance. The cost and performance of advanced devices are increasingly influenced by integration and packaging challenges. Innovative industrial solutions are the key to developing new advanced devices in solving various societal challenges.
Mathijs Pont leads the Benelux agency of MSC Software: "Our company sees many innovation trends everywhere. From self-driving cars to more and more space launches. But also the immense surge in chip demand, meaning packaging becomes increasingly important".
Thermo-mechanical simulations
One of the biggest challenges in packaging development is the mechanical performance, which depends on the balance between protection from external influences and proper heat dissipation. This can be tackled with the help of finite element (FE) simulation software which allows engineers to discover new materials and designs in advance.
CITC's Thermo-mechanical simulation engineer Wissam Assaad (pictured above) confirms this. He uses the MSC Software to perform thermo-mechanical simulations on chip packages. "Developing a chip package is often a matter of trial and error as it consists of various materials. The difference in mechanical and thermal properties of these materials leads to warpage* of the package during cooling down. The package warpage influences the handling and fixation of the package. Therefore, FE simulation is the best tool to predict the warpage of the package. Simulations are cheaper, faster and safer than performing the experiments in real life". Wissam especially appreciates the fact that the MSC Software performs non-linear calculations. "These are most similar to situations in everyday life".
Computer Aided Engineering
Not only using innovative solutions, but also educating the engineers who use them is an important aspect of developing the technologies that will shape our future. CITC and HAN have therefore created the Semiconductor Packaging University Program. Students of both university and the semicon industry dive deep into all relevant aspects in the field of packaging. To make them fully understand the aspects of packaging design, simulation software – also known as Computer Aided Engineering (CAE) – plays a key role in this program.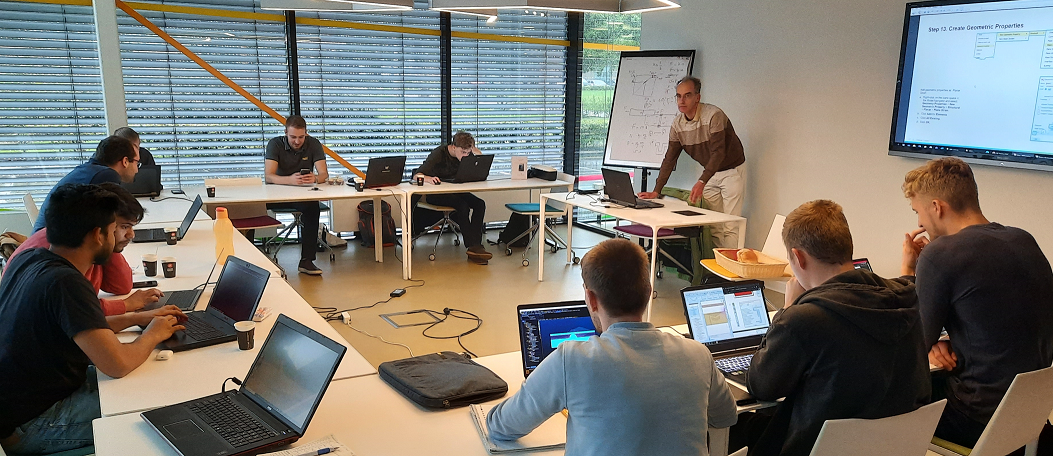 Students who participate in the program are trained in CAE use by an experienced engineer from Mathijs's team (in the picture it is Maarten Oudendijk who provided this year's training). It is important to get students acquainted with this software because chip demand is at an all-time high. Many companies are competing to make smaller products and have them available faster. Therefore the chips inside the package get smaller and faster too, meaning they also tend to get hotter. Mathijs: "Chips are becoming smaller – that's a fact. But packaging cannot always become smaller and still protect these chips."
Supporting the next generation
The students can freely explore the boundaries of packaging in a virtual testing environment. This saves them a lot of time compared to the more traditional process of designing, manufacturing, physically testing, adjusting, and continuing this loop over and over until the right design is found. Using simulation, they can shorten the design cycle and reduce materials and waste. Simulation software gives them the best possible design in the shortest possible time.
Mathijs is proud to support the Semiconductor Packaging University Program: "Being able to support the next generation of engineers with simulation software, is one of the reasons MSC Software exists in the first place!"
*the extent or result of being bent or twisted out of shape, typically as a result of the effects of heat or damp