Interns at CITC develop chip packaging demo model
November 9, 2023 – Two more students have completed their internship at CITC: Matteo Delle Donne and Gerick de Kruijf. The two ROC Nijmegen students in Creative Technology created a chip packaging demo model for use at trade shows and conferences.
Complete redesign
In February, Matteo and Gerick took over this assignment from two fellow students. Gerick: "We know Ted and Nils quite well and they recommended CITC to us. So we continued their project, although we completely redesigned the model." Both students were able to utilize their main qualities in this project. Matteo is a skilled draftsman who has worked on 2D and 3D drawings. Gerick, on the other hand, is good at coding, electrical engineering, soldering, and making calculations about how much power to use.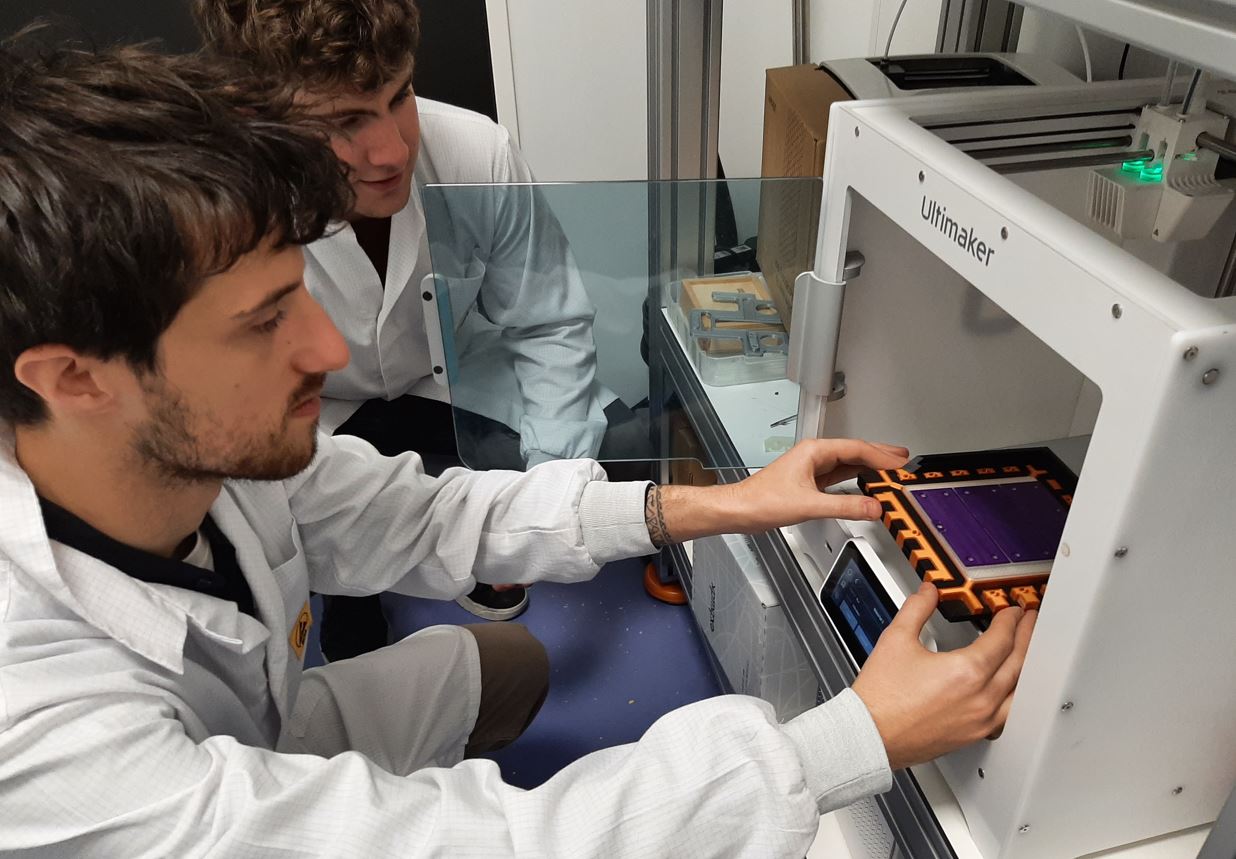 Moving lights
Together they worked on a chip packaging demo model for use at trade shows and conferences. Matteo explains their creation: "We took a MOSFAT (a voltage divider) as a starting point. The underlying idea is that the model shows the relationship between current and temperature. CITC has developed an adhesive that has a longer lifespan than usual, and we tried to visualize that with moving lights in different colors." When asked whether they are happy with the end result, Matteo is enthusiastic, but Gerick admits that he would have done it differently now. "According to my father, that means that I have learned a lot during my internship." The model is now ready and will premiere at SEMICON Europa from November 14-17.
Freedom to operate
Both students agree on how they experienced their time at CITC, a resounding 'we liked it!' "I really liked the freedom to operate. Perhaps that doesn't work well for everyone, but I enjoyed it," Matteo explains. Gerick adds: "It was great that we could actually try things out. We started designing a PCB and we were allowed to have test pieces made." Despite the freedom there was obviously supervision. "We could always ask questions," says Matteo.
When asked to characterize their CITC internship in three words, they choose freedom, friendly and innovative. Gerick: "We would definitely recommend CITC as an internship provider." They are now both moving on to another internship. Matteo will most likely start work at a company that makes injection molds for the production of car parts. And Gerick is pursuing an internship in embedded systems. Normally, these are master internships, but he hopes to have a chance with his experience as vocational student.
Wanted: new students
Interested in an internship or graduation assignment at CITC? Check out the opportunities or send an open application.